Team Foundation Task Board Enhancer: version .7 released
New release of my Team Foundation Task Board Enhancer (previous versions 2.6.2 (update2 only), 0.6.1, 0.6 , 0.5 , 0.4 , 0.3 , 02 and 0.1 ).
This release brings a lot of new stuff. Some in form in features, others in form of things around Task Board Enhancer.
Newsletter
The first is the creation of the Team Foundation Board Enhancer (you can subscribe it here or on the form located on the right sidebar).
I've created the newsletter to better understand the number of people using the extension, I have some ideas on the number of users by the downloads, comments and the occasional email I receive.
I've also noticed from my blog traffic that there is a significant number of people running older versions, so a newsletter might help them be informed about new releases without having to read my blog.
Subscription is optional, no extra information is required besides the email . The email will only be used to send information about task board enhancer and can be unsubscribed at any point with the click of a button.
I plan to send one email, every time a new release is made and I may occasionally send requests for information (like a poll in which features I should invest next), but that is all, so the volume will be very low.
Task Board Enhancer Page
I've also added a Task Board Enhancer page that will always up to date contain information about the extension, all it's features, this way there is no need to read all the posts to have a clear view of what the extension can do for you.
And where you can also download the latest version.
New Features in this release
As usual let's just repeat the standard disclaimer
This extension uses undocumented TFS mechanisms, this means there is a risk (which I'm not able to quantify) it will stop working in the future with new TFS releases or updates . If that happens, the fact that the extension no longer works, it will be my sole responsibility and not of Microsoft.
You can also see full list of features here
Show User Images Instead of Names on Cards
Some people prefer more visual things. This feature removes the name of the person to whom the task is assigned and replaces it with their user image.
This feature only works for team members, if a task is assigned to a person who is not a team member then the name is still shown.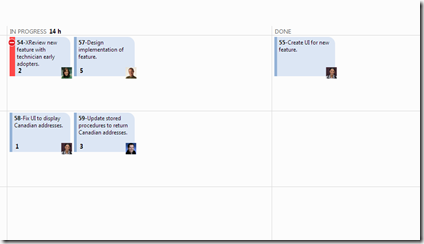 This feature can be enabled/disabled.
Note: The feature is disabled by default , so if you don't see when you install this for the first time, it's normal. You will need to enabled it on the preferences (more on that later).
You can also enabled it by passing the parameter _tspShowUser on the query string (any value is accepted)
Show icon on blocked tasks/requirements
In previous versions you could easily see on the screen blocked tasks (they had a bigger red border on the left side of the card). Some people requested this to even be more visually, so now blocked tasks not only display the red border, but they also display a blocked icon on the top left side of the card.
This feature only works on the task board
This feature can now also be enabled/disabled in the preferences window
Honor done filter on expand all
Previous versions,reset the done filter value when expand all requirements was triggered. Although someone reported this as a bug, it was actually a feature.
The rational, was that if you opted to expand all requirements, that also meant expanding the hidden done requirements. After some arguing, it realized if a user had specifically chosen to hide done requirements the expand all should honor that intention.
So if you hide done requirements and expand all requirements the filter will be honored and the hidden requirements will stay hidden.
This feature only works on the task board
User Configurable Preferences
A user can now configure his own preferences, how the enhancements behaves and which filters are visible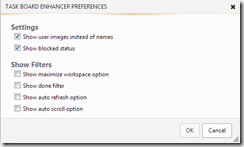 The preferences are preserved across calls and are remembered if the user closes the browser. The preferences are done on a team by team basis and are stored locally on the browser. So if you switch browsers or machines the preferences will not follow you.
As you can can see on the image above, the preferences have two groups. The settings in which you can configure if a given feature is enabled or disabled and the filters, in which you can configure which filters will be visible (see image below) for selection.

The preferences can be triggered on the preferences icon available on the toolbar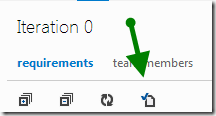 This feature works on both that task board and the kanban board, but the preferences you can set are different (and not shared, so you can have different preferences per board type)
Download
There are two different versions, depending if you are already running TFS 2012 with update 2 or 3 or an older 2012 version (RTM or Update 1). They have the exact some features.
For Update 2 and upwards Download version 2.7.0 of the extension
For RTM and Update 1  Download version 0.7.0 of the extension