Team Foundation Task Board Enhancer: version 2.7.7 released
New release of my Team Foundation Task Board Enhancer (previous versions .7.6,  .7.5, .7, 2.6.2 (update2 only), 0.6.1, 0.6 , 0.5 , 0.4 , 0.3 , 02 and 0.1 ).
If you want to know what is Task Board Enhancer or want to see the full list of features, head on to the Task Board Enhancer page
This version only works on TFS 2012 with update 2 or update 3 installed, TFS 2012 (RTM or with Update 1) is no longer supported (you can still use version 0.7.6).
Based on the analysis on the downloads, there is now a big gap between version 2.x.x and 0.x.x version downloads and added to the fact that maintaining four different codebases takes quite some time (for something I'm doing on the free time that I do not have) so I've decided to drop versions support for TFS 2012 RTM (or update 1).
New Features in this release
This is mainly a bug fixing release.
I've only added a minor feature, it is now possible to display the user to which a requirement (product backlog item,….) is assigned to.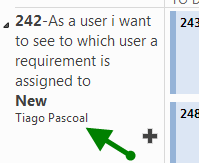 This feature is configurable and it's disabled by default. You can enable it on the preferences window
Besides this feature I've fixed the following bugs
If pictures are enabled and a card has an assigned member it's not possible to enter unassigned – If a card was assigned to an user and the show user images feature is enabled, then it wouldn't be possible to set (on the card itself) the value to unassigned
When moving between team members and stories the id and state of the requirement are lost – If you switch the view to team members and then switch back to backlog items then the id and state was not visible on the requirements anymore.
In IE (8 and 9) when there is a large number of tasks the ids are not shown on all of them –If there was a large number of work items on the board (> 250) then on some browsers (I've could only reproduce it on IE8 but I've got some reports on IE9 also) only half of the cards would have their IDs displayed. I believe this also fixes some issues that have been reported (but I could never reproduce it) where sometimes the board failed to load on first attempt (a reload work work) on some versions of Internet Explorer
Download
This version only works on TFS 2012 with update 2 or 3, there is no version for TFS 2012 (RTM or Update 1)
For Update 2 and upwards Download version 2.7.7 of the extension