Team Foundation Task Board Enhancer: version .8.1 released
[Update: 24 March] Found a minor bug in 12.0.8.1 (requirement colors were not being shown) so version 12.0.8.2 has been released (no announcement)
Download version 12.0.8.2 of the extension
New release of Team Foundation Task Board Enhancer
This is a very minor release, it brings a new feature and support for TFS 2013 Update 2 (release candidate)
New Features in this release
Show requirements execution summary
In the taskboard, under your sprint details you can now see a summary of the completed requirements.
(when I say requirements, it means work items in the requirement category (the first column on the task board). For Example Product Backlog Items for Scrum or User Stories in MSF.
The shown value, is not related to the effort spent on the tasks, but the effort related to the work items in the requirements category.
For example in Scrum it's the Effort field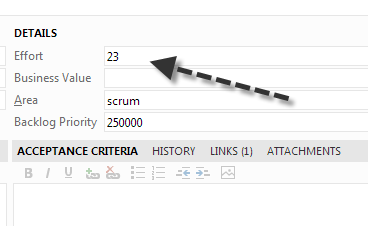 whereas in MSF Agile it's the Story Points field
The summary shows how many points (let's call it that for simplification purposes) have been already completed out of the total points for this sprint.
Support for TFS 2013 Update 2 (release candidate)
Two weeks ago Release Candidate for TFS 2013 was released it is not the final release, but it has a go-live license, which means it is fully supported and you can use it on production environments.
Update 2, introduced some minor internal changes and this release has adapted to them. If you want to use task board enhancer on Update 2, you will need to install this version.
If you were using VSO Enhancer you would need to upgrade anything everything is taken cared automatically, update 2 was supported even before it was released.
Download
TFS 2012 Update 2 and upwards
This version only works on TFS 2012 with update 2 or 3, there is no support for for TFS 2012 (RTM or Update 1) in this release. (you can still use the older version though)
For Update 2 and upwards Download version 11.2.8.1 of the extension
TFS 2013
This version works with TFS 2013 RTM
[Update: 24 March] Found a minor bug in 12.0.8.1 (requirement colors were not being shown) so version 12.0.8.2 has been released (no announcement)
Download version 12.0.8.2 of the extension